June Holidays & Special Days - Click Here!
~ June 2016 ~
Dear Readers,
Well, the spring semester is over, and another homeschool convention season is already upon us! Download a free copy of How to Get the Most Out of a Homeschool Convention. This 14-page special report includes a handy checklist!
Congratulations to all of the 2016 homeschool grads! And don't forget, Father's Day is coming up on June 19. Happy Father's Day to all of the homeschool dads! :)
Featured Article
Homeschooling Duties Of Fathers
A father's primary goal as leader of the household is to provide for and protect his family, but fathers also have a God-ordained responsibility for the training of their children. This means that the homeschool father should be involved as much as possible in his children's education. The more he actively participates, the more credibility homeschooling has in the eyes of his children, the less stressed mom will be, and the more likely it will be a long term experience. It's a real blessing to have a father who can spend time with his kids during the day. Even a father who works away from home can be their nightly homework checker or Bible teacher. A father may teach some other subjects as well, but most importantly, he must be supportive of his family's homeschooling endeavor. Fathers should consider the following duties.
Principal (The principal may not do any teaching, but he is in charge to make sure the teachers teach, and he provides the help and support they need to do so.)
Pray for guidance and blessing.
Write down goals and a plan of action.
Make a schedule and see that it is followed.
Help select curriculum and plan lessons.
Talk to your children about what they are studying.
Review your children's work; grade papers.
Assist with special projects (science experiments, etc.).
Go along on field trips.
Attend workshops and conferences with your wife.
Offer encouragement to your wife and motivation for your children.
Enforce the discipline of your children.
Take an active interest in politics and legislation that may affect home education.
Provide income for purchasing school supplies and materials.
Give your wife a break (bring home dinner; take the kids to the park).
Hand out the diploma or certificate of promotion at the end of the school year.
Spiritual Leader (As the spiritual head of the household, the father should be a good role model.)
Pray for your family and your homeschool.
Take the family to church regularly.
Bring God into everyday conversation.
Teach your children about God's creations.
Teach your children about God's historical works.
Teach your children the Ten Commandments.
Evangelize your children.
Take your children on "fishing trips" (witnessing).
Tune in to Christian music on the radio.
Lead the family in daily devotionals.
Encourage reciting Bible verses from memory.
Read the Bible aloud and study Biblical passages together.
Read Bible stories to children at bedtime.
Instructor (The father may be better at teaching certain subjects, such as one or more of the following examples.)
Physical Fitness/Sports.
Woodworking Shop/Auto Mechanics.
Science and/or Mathematics.
History, Government and/or Economics.
Logic and/or Critical Thinking.
Any other subject dad enjoys, majored in, or otherwise knows well.
Finally in all of these things remember Colossians 3:21 which says, "Fathers, provoke not your children to anger, lest they be discouraged." Similarly, Ephesians 6:4 states, "And, ye fathers, provoke not your children to wrath: but bring them up in the nurture and admonition of the Lord."
Book of the Month
The 4th of July is coming up soon! Stock up now on Citizens Rule Books for handing out at tea parties and Independence Day celebrations. The legacy of my late father-in-law, this pocket-sized book includes the Declaration of Independence, the U.S. Constitution and Bill of Rights, plus quotes by our Founding Fathers and information for jurors. Only $1 each!
Famous Homeschoolers
Famous Homeschooling Fathers
In honor of Father's Day, here is a list of famous (and semi- famous) homeschool dads, from FamousHomeschoolers.net.
Todd Akin
U.S. Congressman (MO)
Todd was a founding member of the West County Christian Home Educators Association.
David Albert
speaker and author of And the Skylark Sings with Me
Amos Bronson Alcott
innovative teacher, father of Louisa May Alcott
Shaun Alexander
A former NFL Most Valuable Player and season touchdown record holder, Shaun Alexander now spends his days helping his children with math, Spanish, reading, Bible, and piano lessons. He is not only a passionate homeschool father, but an advocate who will be a keynote speaker at this year's Home Educator's Association of Virginia (HEAV) convention, June 9-­11, at the Greater Richmond Convention Center.
Garth Brooks
country music singer
Kirk Cameron
actor and film producer
Michael Card
contemporary Christian songwriter
Duane G. Carey
NASA astronaut
Geoff Davis
U.S. Congressman (KY)

Michael P. Farris
Lawyer and Chairman of the Home School Legal Defense Association (HSLSA). He is also the founding president and current Chancellor of Patrick Henry College. Education Week named him one of the "Top 100 Faces in Education of the 20th Century."
Robert Frost
Pulitzer Prize-winning poet
"I still say the only education worth anything is self-education."
David Guterson
educator and author of Snow Falling on Cedars
Tim Hawkins
comedian
Eric Jackson
whitewater paddler
Stephen Kendrick
pastor, movie producer (Flywheel, Facing the Giants, Fireproof, Courageous, War Room)
Robert E. Lee
Civil War General
Len Munsil
attorney, founding President of The Center for Arizona Policy (CAP), gubernatorial candidate, and president of Arizona Christian University
Chuck Norris
actor, author, martial artist
Paul Overstreet
musician, songwriter
Stewart Rhodes
Founder of Oath Keepers - "a husband and father of five homeschooled children" http://www.lvrj.com
Jim Ryun
Olympian runner, Kansas congressman
Rick Santorum
U.S. Senator from Pennsylvania; presidential candidate
Mike Smith
lawyer and co-founder of Home School Legal Defense Association (HSLDA)
Mark Spence
Christian speaker, Dean of The School of Biblical Evangelism
R.C. Sproul, Jr.
Reformed theologian, pastor, speaker, author of When You Rise Up: A Covenantal Approach to Homeschooling
Bob Tebow
father of Tim Tebow and founder of the Bob Tebow Evangelistic Association
Jimmy Wales
co-founder of Wikipedia
"Wales, whose wife Christine teaches their 5-year-old daughter Kira at home, says he is disappointed by the "factory nature" of American education: "There's something significantly broken about the whole concept of school." A longtime opponent of mandatory public school attendance, Wales says that part of the allure of Florida, where his Wikimedia Foundation is based, is its relatively laissez-faire attitude toward homeschoolers. This makes it easier for Wales and his wife to let Kira (a tiny genius in her father's eyes) follow her own interests and travel with her parents when Wales gives one of his many speeches abroad."~Reason Magazine
Darrell Waltrip
NASCAR racer
Emeal "E.Z." Zwayne
Christian speaker, pastor, Executive Vice President of Living Waters
Do you know of any others that I missed? Please e-mail me at homeschool@knowledgehouse.info.
Reading Between the Lines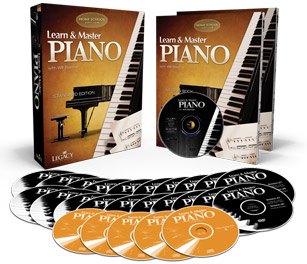 Learn & Master Piano
Have you always wanted to learn how to play the piano but never got around to it or can't afford expensive lessons? Have you grown frustrated with trying to learn from books, software, or cheap introductory videos with little useful content? Did you try taking formal lessons at one time but lost interest? Piano playing seems to be a deep longing in many people's hearts, and yet most of us don't have the time, money, or patience to spend years taking classical piano lessons. Do you have a secret desire to be able to play a piano? No matter your age, now you can with Learn & Master Piano, a learn-at-home piano course! Read the complete review at HomeschoolingTeen.com.
Learning Links
Family Travel Tips - How to make family travel more enjoyable for kids and parents alike.
Play it Safe in the Sun - June is Skin Cancer Awareness Month.
Summer Safety - June is National Safety Month.
The Story of Old Glory - Flag Day is June 14.
Father's Day - Read about the history and traditions of Father's Day.
In the Good Old Summertime - June 20 is the first day of Summer!
Freebie of the Month
Here are some lists that will help with your summer travels!
Road Trip Log - This is what we use to keep track of our miles, times, and places wherever we go; then we save them in a family trip binder for future reference.
Camping Checklist - A vacation packing list that our family has used over the years, with space to add your own items.
Family Trip Plan - We start getting ready for our trip a week ahead of time, by following this list of things to do.
(PDF format requires Adobe Reader: click here for free download.)
Quote of the Month
"By the time a man realizes that maybe his father was right, he usually has a son who thinks he's wrong." ~Charles Wadsworth
A Note From Teri...
What's Your Story?: Discover the Man Behind Your Dad is a new book (just released on June 7, 2016!) that fosters a meaningful conversation between father and child. It encourages a dialogue that helps children (of any age!) learn more about dad — including questions about his upbringing, belief systems, and what stories he wants to share with the family's future generations. The authors offer a carefully crafted path designed to cultivate the sharing of a dad's life stories and world view. Click here for a video interview with the author. And then order the book at Amazon.
Wishing you all a wonderful summer of fun and learning!
Happy Homeschooling!
P.S. Did you like this month's newsletter?